The final match of the World Cup played at Lord's ground on Sunday has been recorded in the thriller. At the same time, during a match, a woman tried to draw the attention of the people. Woman Strider jumped into the ground and tried to take off clothes. The woman was in black clothes and she wrote on 'Vitaly Uncensored'. The security personnel took the woman out of the field on time.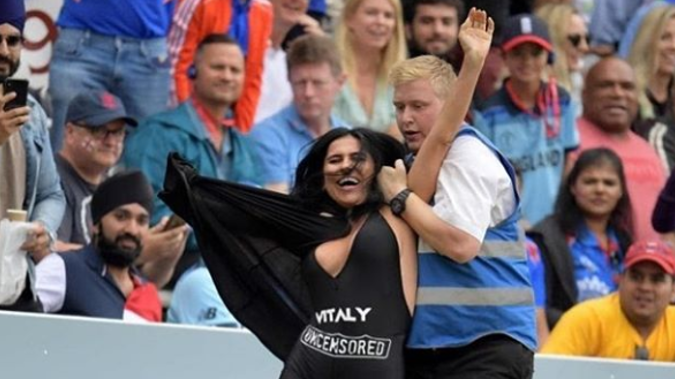 This woman's striker is named Elena Wulitsky and she was doing such acts to promote her adult son Vitali Dorovetsky's Adult website and YouTube channel. He could not remove the cloth, but due to the small clip, his Instagram Follower increased in the number of millions in a few hours.
On Twitter, Vitali wrote, 'My mother is crazy.' Vitalis continue doing such tasks for the promotion of their adult website. Earlier, during the UEFA Champions League, his girlfriend Kinsale Volalanski also tried to take off.
Kinsey Volalanski had put the video of his motion on the Instagram itself and after this, the follower had escalated very fast.
During the World Cup match, Stryker has done such things before. On July 3, during a match between England and New Zealand, a man jumped into the ground after being nude.