Thousands of additional security personnel, who have arrived in Jammu and Kashmir in the last few days, have taken a stand on a ruckus. In view of the possibility of any major decision regarding Jammu and Kashmir on Monday, unprecedented security arrangements have been made in the state. Srinagar has been transformed into the camp. Armed soldiers are deployed at every step. The process of exit of tourists and devotees continued on Sunday. Shikaras on the Dal are now empty and silence has been lost in the streets.
Naka has been installed in the state. Every visitor is being monitored. Trains are being searched.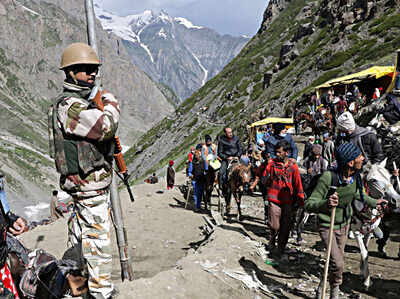 In Srinagar, the down-town called the separatist stronghold, Lal Chowk and adjoining Messuma has been converted into a cantonment. These areas are known as the stronghold of separatists.
There are circumstances like curfew in entire Kashmir. As a precaution, the administration has imposed Section 144 here since Sunday night.
In the last few days, more than 35 thousand additional security personnel have been sent to Jammu and Kashmir.
Security personnel in Jammu and Kashmir have been kept on high alert. Army, police and CRPF personnel are motivated every day.
Section 144 has been imposed in Jammu from 6 am on Monday. The way through the thorny wire has been blocked. The place is being announced from a loudspeaker. People are being asked to avoid leaving their homes.
Due to the imposition of Section 144, there are no trains on the streets of Jammu, people were seen going on foot in the morning.
Most tourists and devotees have left Kashmir in view of the advisory issued by the state government. There was a huge rush of buses and taxis which left here on Sunday. If airfares have become expensive then tickets have also become full.
Anticipating the threat of terror, the government advised people to leave Kashmir soon. After this, tourists and pilgrims were desperate to get out quickly.
The water in the Dal Lake, which is buzzing with tourists, has got quiet. Shikaras are empty and have taken the edge.
Rapid Action Force has been deployed in Poonch district of Jammu division. On Sunday, RAF Javans patrolled here.
Given the unusual situation, people have also stored petrol and diesel along with ration water. Long queues were seen at many petrol pumps on Sunday.